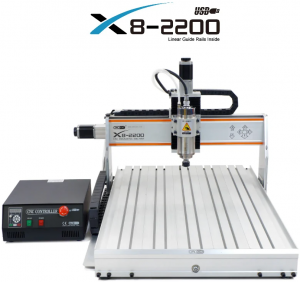 Moving forward, it's time to figure out how to purposefully use a CNC router. There is no room at home for this so I'll deploy this at the school (though I do retain ownership rights). After doing some research this is the one I selected. Made in China, reviews of this machine on Chief Delphi and confirmed by video evidence are excellent.
I don't see myself making this journey on my own  so we are at the beginning of a new learning curve:
Assemble and test: there are two large and hefty boxes neither of which is easily manhandled (except by the young and impressive muscular DHL delivery person.)
Learn Mach-3: this is the software that inputs suitable CAD files then outputs the corresponding G-Code to CNC routers or 3D printers. One or two of the Brainstorm Robotics (FRC7509) team members has some helpful 3D printing experience.


Despite the assurance that Mach-3 is widely used, a concern is the apparent fickle nature of the aging Mach 3 software and the strong recommendations to run only on older model computers. Mach-3 requires USB2 ports (none of these on my current computer) though I do have a port replicator to add two USB2 ports and I hope that will work. There is an older-model desktop in the robotics lab and that should do the job just fine. Maybe we'll set that up as a CNC-dedicated computer.

Computer-aided Design: We have access to OnShape, AutoCAD (and its various applications) and SolidWorks. Question now is which do we use? The school has licensing in place for AutoCAD and OnShape runs in the cloud. TinkerCAD is produced by AutoDesk, the purveyor of AutoCAD – this may skew our decision.
This year we are running Exploring Technologies (TIJ1O) for the second time where again the focus is on ising the FTC Education Kits and using design tools like OnShape as we prepare to fabricate parts using a CNC router or 3D printer.
Revised August 1, 2021