Robot First Aid Day – with Celt-X (FRC 5406)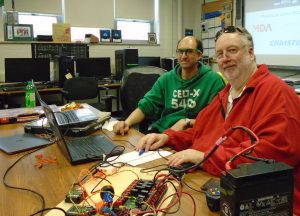 Many thanks to the Celt-X for their hospitality on Sunday, March 1, 2020 – they hosted a first aid day to help First Robotics teams with ailing robots. Ours was a controller problem with the Spark MAX controllers (we have not used them before) and we were able to get this issue resolved. We also did a little laser cutting (with Lexan this time) – parts are useful but have scortch marks unlike the very nice and clean laser cutting we did a few weeks ago with Delrin.
This exemplifies the notion of gracious professionalism and we – Brainstorm Robotics (FRC7509) thank them for the assist. We are a rookie + 1 team and still have much to learn!