Many of the robotics team members have graduated so this is a rebuilding year for our team — for many other teams too! Regrettably, the STEMley Cup competition is again cancelled (would have been November, 2021). So, our focus shifts to the 2022 season, we do want to engage team members now in building key skills and the capacity to:
envision ideas;
design them using CAD (likely OnShape);
fabricate (using 3D printing or CNC routing);
assemble parts;
prototype and redesign as necessary;
troubleshoot electrical, mechanical and pneumatic systems;
write Java code to control it all.
When we last competed, we broke a wheel on our robot and, with the assistance of other teams, were provided a replacement. We kept the wheel. Said partly in jest, it was suggested that we should have a Broken Wheel Award though there was little discussion on the criteria for the award. Let's use this award to celebrate failures, persistence and abilities to overcome obstacles, making it okay to fail, ok to take risks and innovate.
Failure is a prerequisite for success. You learn to succeed by failing. — Brian Tracy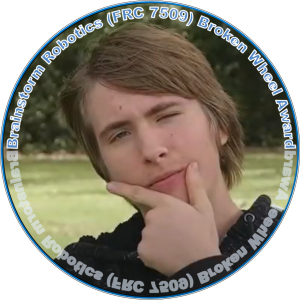 I rather liked the picture of the team captain emeritus ponderously stroking his chin as he often did when troubleshooting. He suggested the award; let's incorporate this image into an award plaque together with the actual broken wheel.
We should log awards in the team's Engineering Notebook for the 2022 competition season.